I made these biscuits before, and they were SO GOOD I took them to my moms to share. I think I got her hooked too :) We added extra stuff to the steak gravy, which made it taste a little "off" so I won't put that in here.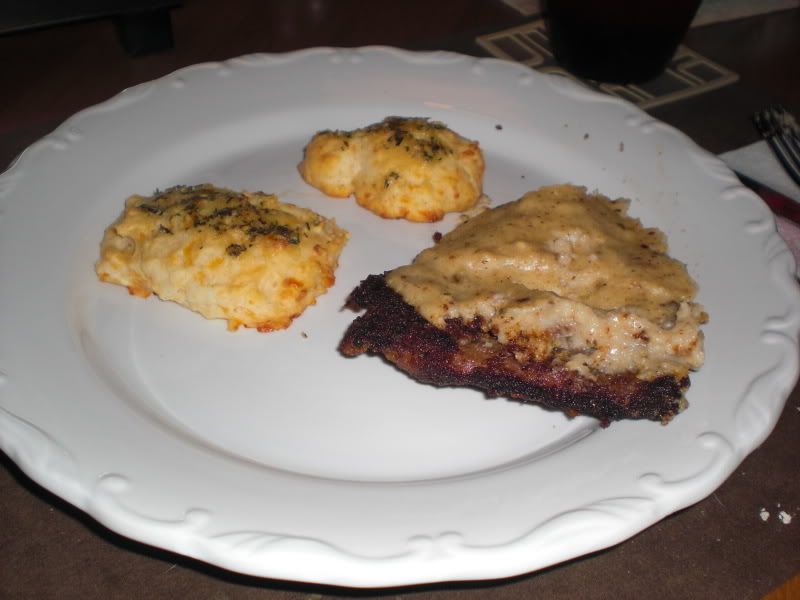 I got these from Joyful Abode. I love her step by step pictures, and each thing I've tried of hers turned out great!
http://www.joyfulabode.com/blog/2008/03/08/cheesy-garlic-biscuits-a-la-red-lobster-step-by-step-easy-recipe/
Set your oven to 400 degrees Fahrenheit and spray a cooking sheet with nonstick spray.
Dump into a bowl: 2 cups of buttermilk biscuit mix (like Bisquick or Jiffy mix), 1/2 a teaspoon of garlic powder, and 1 to 1 1/2 cups of shredded cheddar cheese.
Stir everything together.
Pour in about 2/3 cups of milk. Stir until combined.
Use the two-spoon method to drop lumps of the dough onto your cookie sheet.
Stick them in the oven and set the timer to 10 minutes. Now, melt 2 Tablespoons of butter and stir in 2 teaspoons of oregano and 1 teaspoon of garlic salt (I used minced garlic and garlic powder).
When the timer goes off brush some of the butter mixture over each biscuit (I didn't have a brush so I poured with a spoon). Then, pop them back into the oven for another 5-6 minutes or until they're lightly browned. If you'd like, you can brush them with the garlic-herb butter again and let it soak in before you serve them.
http://www.joyfulabode.com/blog/2008/03/03/country-fried-steak-with-gravy-again/
Prepare a dredge of flour, salt, and pepper. And beat a couple of eggs in a separate bowl.
Dip the meat in the flour, then in the egg, then in the flour mix again. Pan-fry in a few tablespoons of olive oil until golden brown on the outside and cooked through.
Then, set the meat aside and cover to keep warm.
Add a bit of butter to the drippings and dump in the rest of the flour mix (a few tablespoons probably). Mix this up and cook it about a minute, until it's bubbly and colored a bit.
Add some milk, and cook until thickened. Add some more milk, and thicken again. Add more salt and pepper.
Pour it over your country fried steaks.